For most people, building a home is the largest expense encountered in a lifetime. Whether it's your forever home, first custom home, or somewhere in between, you want to have a good relationship with your builder. After all, you will be working with your builder for several months. Doing your research and setting reasonable expectations are imperative to making the construction process run smoothly. Here are some tips on how to choose the right custom builder for you.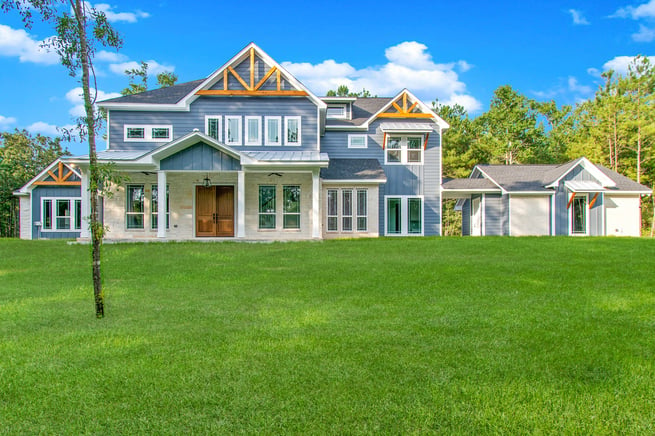 Getting Started in the Search
Does the custom builder have design services as well? Are the custom floor plans included? When you select a design-build firm, the custom builder takes ownership and responsibility for all aspects of the home, design included. Plus, when you design with your custom builder, you can continue to make changes to the plan, which may be needed to suit your property's needs.
Location
Geographically speaking, you want to make sure the home builder you interview can design and build in your area. Certain home builders service territories, or specified communities in a region. Some builders will service most areas in a region, but leave particular communities or municipalities out. Has the builder built in your community before? Many times, custom builders are allowed into new communities or cities with an application process, but you want to make sure the builders you interview can build in the location you desire.
Budgetary targets
When building a custom home, have a target budget in mind for the home only. To calculate this number, take your total cost of the entire project minus the cost of the land. You may have land already, or you need to find out how much properties cost in your desired location. We recommend to decrease 10% from the calculated home budget so you have wiggle room for future upgrades, necessary expenditures, or new furniture when the home is complete.
What is Included?
Not every custom home builder is created equal. Research what items are included in your builder's standard features. Think about everything you want in your new home – ceiling height – appliances – countertop types – outdoor kitchen – landscaping – flooring – sound system – etc. The more prepared you are with your wants will enable your builder to provide you with a more realistic budget that is in tune with your expectations.
Interview your Top 3 Builders
You want to meet (face-to-face or virtually) with your top 3 – or more – custom builders to make sure personalities are a good mix. Consider the asking the following questions to your perspective home builder:
How many years have you been in business?
How many homes have you completed?
Do you maintain builders' risk on each property?
What is your warranty program?
Do you consistently use the same subcontractors?
Do you have an in-house design center to make selections?
Is there an individual that we work with to make exterior and interior selections?
Can we make changes before and during construction?
What is included in your inspection process?
Do you have model homes to tour?
Can you show us homes under construction?
What is included in land preparation?
What are the allowances in the contract?
Visit Homes Under Construction
Why? Every builder can put a nice finish on a model home. What really counts is what you cannot see, the quality of the construction. What size are the exterior walls? How far are rafters, joists, and studs spaced? What is used for energy efficiency? A builder with a good reputation will not hesitate to walk (virtually or in-person) potential homeowners through homes under construction.
Check References
Find other people in your community that have built with this builder. What was their experience like? Given the opportunity, would they do it again? Online references are a good tool to use, but getting the full experience from someone who has used this builder would be even more helpful.
Select Your Builder!
After researching builders and viewing homes under construction, interviewing at least 3, you should be ready to make a decision. And once you do, you should be excited! You just took the first step in designing and building your custom home! Here are some tips on what to bring to that first meeting.
LET'S DISCUSS YOUR CUSTOM HOME!
Kurk Homes is proud to offer superior quality-constructed custom homes with a 20-year warranty. We take pride in providing our clients with a "no surprises" policy by maintaining constant communication throughout the building process. Whether building from an existing plan, a Southern Living Plan, or consulting with our talented Design Team to plan your dream home from scratch, we take pride in going above and beyond to make your dream home a dream building experience as well. Contact us today to discuss building your custom home!